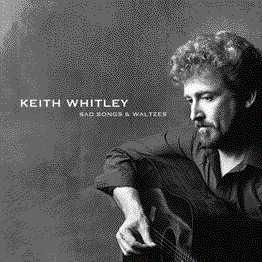 Tracks:
| | |
| --- | --- |
| 01. | I Never Go Around Mirrors |
| 02. | (I've Always Been) Honky Tonk Crazy |
| 03. | To Be Loved by a Woman |
| 04. | Where Did You Learn to Love Like That? [ Listen ] |
| 05. | I Would Have Loved You All Night Long |
| 06. | Somewhere Between [ Listen ] |
| 07. | Girl from the Canyon |
| 08. | Does Fort Worth Ever Cross Your Mind? [ Listen ] |
| 09. | I Don't Know You Well Enough to Say Goodbye |
| 10. | Dance with Me Molly |
| 11. | Where Are All the Girls I Used to Cheat With? |
| 12. | Sad Songs and Waltzes |
| 13. | Another Town |
| 14. | Long Black Limousine |
| 15. | Family Tree [ Listen ] |
General Information:
More News on the New Record! Directly from Rounder Records! We did have some conversations with RCA about the Keith material years ago, and Mary Martin who was then at the label was very interested in having RCA put out at least some of the material, but Mary was unsuccessful in her attempts to convince the powers that be. We tried again after she left, but were again unsuccessful. As things turned out, I'm very happy as I don't think anyone at a major would have put in the love and caring that J.D. and Steve Chandler and I did with this project. When we were mastering, we called up Kathi Whitley, Keith's wife at the time of the recordings, and she joined us in the final listening. It was really special for us all. We have a pretty musical crew at Rounder, but I can think of few records which have gotten as much play in the warehouse as this record has prior to release and I'm hearing it from the desks of people who rarely play any country music. This record was too country for country when it came out and I feel pretty strongly that it is still far too country for country radio. Americana stations will love it and the cooler country stations will too, but there aren't enough of them to make an impact.

The album is titled "Keith Whitley: Sad Songs and Waltzes" and will be released 9.12.00, It features songs Keith recorded with J.D Crowe and the New South plus new unused photos shot by Jim McGuire. Most of the tracks are from the "Somewhere Between" album but features other rare tracks and comes to a total of 15 tracks for your listening enjoyment. The tracks were stripped down and added Vocal harmonies that include Carl Jackson, Gene Johnson of Diamond Rio, Dale Ann Bradley and Alison Krauss . Liner notes will include an article written by Bob Oermann and an article from billboard magazine at the time of Keith's death. --Rounder Records. Within a few short days you will be able to sample some of the new album directly from keithwhitleyblvd.com. We will have audio files and more info as soon as it is made available.
Added: Sept.23 2000
Keith Whitley Remembered, Honored at Music Row Fete Keith Whitley was honored Wednesday (Sept. 20) at BMI's Music Row offices. Hosted by BMI's Roger Sovine, the event celebrated the re-release, with additional tracks and new musical backing, of Rounder Records' 1982 title, Somewhere Between. Gene Johnson from Diamond Rio stated "I remember working up a lot of the material with Keith," Johnson recalled at the informal gathering. "We talked a lot about the album. Then I had another job opportunity come up that I couldn't turn down. So, I moved on, but I've always kicked myself in the butt for not being on that album." Crowe and engineer Steve Chandler stripped down the original recordings and overdubbed new instrumental and backing vocal tracks. Johnson, along with Alison Krauss, Carl Jackson, Dale Ann Bradley and others, supplied harmony vocals. "It was spooky in a way," Johnson says of the studio session. "It gave me chill bumps to sit there and listen to Keith's vocal track coming at me. It brought me back 20 years, when we were playing together. There's nobody I enjoyed singing with any more than Keith." Several others connected to the project also attended Wednesday's reception, among them Crowe, Chandler, Bradley, Rounder Records chief Ken Irwin, and guitarist Jeff White. Songwriters Tom T. Hall and Frank Dycus, who have songs on the album, and music journalist Robert Oermann, who updated his original liner notes for the reissue, also were on hand. Whitley died 11 years ago, at age 33, of an alcohol overdose. Rounder tentatively plans to reissue an earlier album, My Home Ain't in the Hall of Fame, next year. Irwin feels the timing for Sad Songs & Waltzes couldn't be better. "There is a need to get back to country music -- making country what it was," Irwin says. "At the time the original album was made, there wasn't a whole lot of real country being recorded in Nashville, which is not too different from today. J.D., Steve and I all feel that this is the most country record that Keith ever recorded, and, to our tastes, his best." Johnson speaks for many Whitley fans who feel grateful that a new set of songs sung by Whitley is available. "Certainly having another project out there is a tribute to him," Johnson says, "but it's also great for me, because I just like to hear him."

From Rounder Records:
If Keith Whitley's legacy is a tree, casting an imposing shadow on all of country music, then these powerful 1982 recordings are his hard-country roots. Drenched in the echoes of classic hardcore honky-tonk influences (Frizzell, Jones, Haggard), the remarkable music on Sad Songs and Waltzes predated - and doubtlessly influenced - the acclaimed "New Traditionalist" movement that reinvigorated country music in the late 1980s.

The performances here are the most resonant and emotional of Whitley's entire career: classic country imbued with Keith's own unique sense of twang and timing. Available on CD for the first time, they have been lovingly remixed and tastefully overdubbed for reissue by original producer JD Crowe. In addition to all of 1982's Somewhere Between album - the record that first introduced Whitley as a honky-tonk singer beyond compare - Sad Songs and Waltzes boasts 5 previously unreleased cuts. Longtime Whitley admirer Alison Krauss contributes harmonies, as does noted writer/performer Carl Jackson and Diamond Rio's Gene Johnson.


Players:
Keith Whitley, vocals
Randy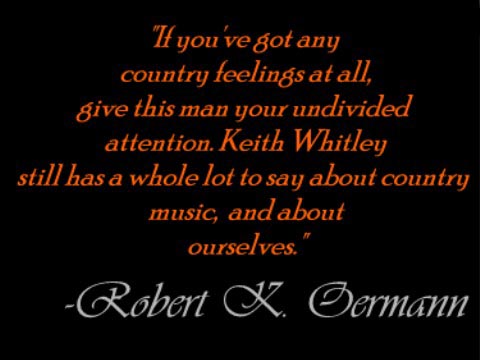 Howard, fiddle
Hargus (Pig) Robbins, piano
Jimmy Carter, electric bass
Doug Jernigan, steel guitar
Leo Jackson, acoustic rhythm guitar
Martin Parker, drums
Dale Ann Bradley, harmony vocals
Steve Gulley, harmony vocals
Kelly Black, electric guitar
Michael Rhodes, electric bass
Weldon Myrick, steel guitar
Jon Probst, piano
Ricky Rector, acoustic rhythm guitar
Jimmy Gunn, drums
Kenny Malone, drums
Peter Wade, electric guitar
Billy McClelland, electric guitar
Alison Krauss, harmony vocals
Wes Hightower, harmony vocals
Kelly Black, electric guitar
Dirk Johnson, piano
Jordanaires, back-up vocals
J.D. Crowe, banjo, harmony voclas
Steve Bryant, electric bass
Jeff White, acoustic rhythm guitar
Gene Johnson, harmony vocals
Glen Duncan, fiddles
Carl Jackson, tenor vocal
Pictures from this years